Coba kita bayangkan berapa banyak jenis metode ukuran yang dipakai di seluruh dunia dan ternyata yang digunakan oleh setiap belahan dunia berbeda beda.Beda di asia, beda juga di eropa begitu juga di Amerika juga berbeda. Sebagai contoh di negara kita untuk ukuran suhu dan temperatur kita menggunakan derajat celcius, namun di belahan bumi lainnya ada yang menggunakan satuan fahrenheit ataupun Kelvin.

Nah untuk tidak membuat anda menjadi bingung dan terus menghitung persamaannya gunakan saja aplikasi yang bernama JConvert.

JConvert adalah aplikasi open source yang diciptakan memang untuk memecahkan masalah perbedaan ukuran dan unit yang terdapat di seluruh dunia, aplikasi ini akan meng-konversi setiap ukuran dan unit yang bervariasi dan menyesuaikan dengan keinginan anda.

Tampilan dari aplikasi ini cukup sederhana dimana pada jendela utamanya hanya terdiri dari 2 Tab saja, yakni Tab File dan Tab Help.



Aplikasi JConvert pada jendela utama,juga dibagi menjadi tab-tab kecil yang terdiri dari 22 kategori yang mewakili unit conversi masing-masing. Tab-Tab itu adalah : Acceleration, Amt of Substance, Angle, Area, Computer, Concentration, Density, Distance, Energy, Flow, Force, Light, Mass, Power, Pressure, Temperature, Time, Torque, Velocity, Volume, Volume Dry, dan Curency.

Konversi yang disediakan di dalam Tab file,terdapat unit-unit yang dapat anda pilih untuk kepentingan meng-konversi ini menjadi itu, dan dibagian bawah jendela utama disediakan text box tempat mengetikkan unit apa yang ingin anda konversi dan hasilnya akan secara otomatis tampil di text box sebelahnya.



Sebagai contoh anda ingin mengetahui nilai suhu 80 derajat celcius itu kalau di derajat kelvin berapa ya? tak usah bingung menghitungnya sendiri gunakan saja aplikasi JConvert ini.

Aplikasi ini juga dapat anda install di ponsel anda yang mendukung JAVA, karena dia ber-ekstensi JAR, sehingga dapat digunakan dimana dan kapanpun anda membutuhkannya.

Perlu diperhatikan untuk dapat menjalankan aplikasi JConvert ini di Computer, anda mesti meng-install JRE [Java Runtime Enveronment] minimal versi 1.5 -- ke atas.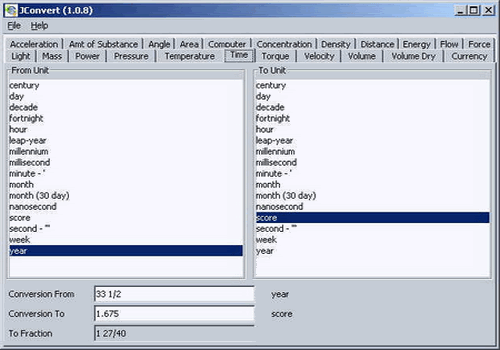 Publisher
Visit Site
Here!
Convert is an open source project developed in Java that converts various units of measure. JConvert is free software that you are free to download and use. JConvert has two interfaces. The first is a friendly user gui that will allow you to select from a series of conversion categories. Within these categories, there are individual units where you can select the unit you wish to convert from and to. At the bottom of the screen you can enter the value you want to convert and the result is instantly provided. It is simple to use and installation isn't really installation at all. Open it as you would a simple image when it is double clicked on, it will automatically open. If you are running windows, there will be no installation procedures, no registry entries, no additional files other than the one you download. If you delete it, it is gone. So why not try it out!
Informasi :

Nama :

JConvert 1.0.9
Size :

141 KB

Website :

http://jconvert.sourceforge.net/

Download :

http://sourceforge.net/project/platformdownload.php?group_id=201265


Download :
JConvert 1.0.9

Download :

Java Runtime Environment [JRE]



Download :

Java Runtime Environment [JRE]

System : All Windows


Artikel Terkait: