U

ntuk melakukan instalasi suatu System Operasi kini user tidak mesti harus menggunakan media CD/DVD sebagai sarana instalasinya. Terutama bagi user pengguna System Operasi Linux kini sudah dapat melakukan instalasi System Operasi Linux menggunakan media USB Flash Disk ataupun Removable Hard disk dengan bantuan aplikasi

UNetbootin [Universal Netboot Installer]

.



Sebelum dapat menggunakan aplikasi ini user mesti mempunyai

Distro Linux

dalam format file image

ISO

yang bisa di download dari internet ataupun membutnya sendiri dari CD/DVD instalasi Linux anda dengan bantuan aplikasi pembuat image ISO seperti Ultra ISO dan lainnya. Aplikasi UNetbootin bekerja dengan cara meng-ekstrak file image ISO ke dalam media USB flash disk dan membuatkannya menjadi

bootable

.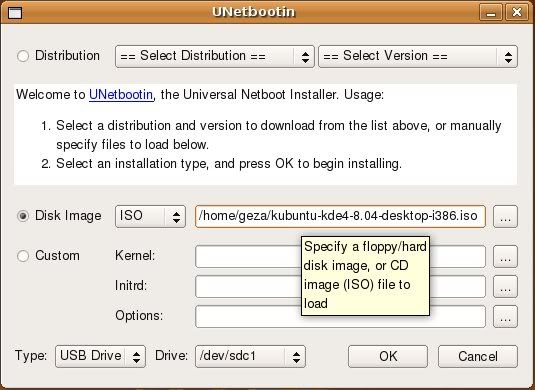 Adapun Distro-distro linuk yang sudah didukung oleh aplikasi ini antara lain :
-Arch Linux

-BackTrack

-CentOS

-CloneZilla

-Damn Small Linux

-Debian

-Dreamlinux

-Dr.Web Antivirus

-Elive

-Fedora

-FreeBSD

-FreeDOS

-Frugalware

-F-Secure rescue CD

-Gentoo

-gNEWSENSE

-Gujin

-Karpersky Rescue Disk

-Kubuntu

-Linux Mint

-Mandriva

-MEPIS

-netBSD

-NTPasswd

-openSUSE

-Ophcrack

-Parted Magic

-PCLinuxOS

-Puppy Linux

-Sabayon Linux

-Slax

-SliTaz

-Smart Boot Manager

-Super Grub Disk

-Super Ubuntu

-SystemRescueCD

-Ubuntu

-xPUD

-xubuntu

-ZenWalk


Sekian banyaknya Distro Linux yang sudah di dukung oleh aplikasi ini, sehingga lebih memberikan kebebasan bagi user untuk menggunakan aplikasi UNetbootin sesuai dengan Distro linux yang di milikinya.
Publisher
Visit Site!
UNetbootin allows you to create bootable Live USB drives for a variety of Linux distributions from Windows or Linux, without requiring you to burn a CD
UNetbootin can create a bootable Live USB drive, or it can make a "frugal install" on your local hard disk if you don't have a USB drive. It can load distributions by automatically downloading their ISO (CD image) files, or by using existing ISO files, floppy/hard disk images, or kernel/initrd files, for installing other distributions.
Informasi :

Nama :

UNetbootin 3.93 [Universal Netboot Installer]

Size :

4.26 Mb

Websize :

http://unetbootin.sourceforge.net/

OS :

Windows 2000/XP/Vista/7

Download :
UNetbootin 3.93
Artikel Terkait: