menggunakan aplikasi terutama untuk aktivitas online memang rentan sekali terhadap serangan malware, spybot dan sejenisnya, sehingga kita sebagai user harus melakukan proteksi sedini mungkin terhadap computer kita, apalagi anda setiap hari online menggunakan computer anda.
Contoh Aplikasi yang rentan mendapatkan serangan malware adalah Browser internet, semisal Internet Explorer.
Internet Explorer yang saat ini paling banyak penggunanya adalah

Internet Explorer versi 6, 7 dan 8.



Pada IE versi ini, walaupun sudah banyak dilakukan update patch oleh microsoft sesudah terkena serangan malware namun tetap saja menyisakan masalah pada Internet Browser.
Namun sekarang anda bisa memanfaatkan utility kecil yang bernama

Fix IE Utility

. Aplikasi ini akan melakukan registrasi ulang terhadap file-file

dll dan ocx

yang terdapat pada Browser Internet Explorer, sehingga diharapkan akan mampu mengembalikan keadaan Browser internet Explorer seperti semula [default].
Ada kurang lebih

89 file dll dan ocx

yang diregistrasi ulang oleh aplikasi portable ini.
Pastikan anda menutup semua jendela Internet Explorer sebelum anda menjalankan aplikasi Fix IE Utility ini.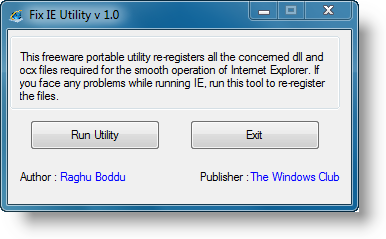 Informasi :

Name :
Fix IE Utility 1.0

Size :
406 KB

Website :
http://www.thewindowsclub.com/
Download :

Fix IE Utility 1.0

Download :

Fix IE Utility 1.0

Download :

Fix IE Utility 1.0

Download :

Fix IE Utility 1.0

Requires:

Win All

License:

Freeware
Publisher
Visit Site
Here!
The Fix IE Utility v 1.0. This freeware portable utility re-registers all the concerned dll & ocx files required for the smooth operation of Internet Explorer.
Simply extract the contents of the .zip file and run the utility.
If you face any problems while running IE, maybe after recovering from a malware attack, run this tool to re-register around 89 dll & ocx files, which are required for the smooth running of Internet Explorer.
Fix IE Utility has been tested on IE 7 and IE 8, on Windows Vista & Windows 7. Before running the utility, make sure that all your Internet Explorer windows are closed.


Artikel Terkait: