Bila anda mempunyai banyak koleksi photo dan gambar yang menarik, mengapa tidak anda perlihatkan semua itu kepada teman-teman anda? Buatkan sebuah Slide Show Video AVI untuk semua koleksi photo anda, sehingga teman-teman anda akan mudah menontonnya secara keseluruhan. Untuk melakukan semua ini anda dapat menggunakan aplikasi yang bernama

ImageToAVI.


Dengan Aplikasi ImageToAVI anda dapat dengan mudah dan cepat mengkonversi kumpulan gambar atau photo ke dalam format video AVI atau GIF Animasi. Asyiknya lagi Video Slide Show AVI yang dihasilkan dapat dengan mudah anda burning ke dalam media Disc menjadi VCD atau DVD favorit keluarga anda.
Selain hal di atas dengan aplikasi ImageToAVI anda dapat memilih untuk membuat video yang anda inginkan seperti : DVD, SVCD, dan VCD (anda dapat memilih NTSC atau PAL keduanya di support oleh aplikasi ini), Video slide show yang dihasilkan juga dapat ditambahkan background musik serta background gambar sesuai dengan selera anda.
Infut format yang di support meliputi :
- Image Input: BMP, JPEG, GIF, WMF, EMF, and ICO.

- Video Input: AVI video and Animated GIF.

- Audio input supported: WAV audio (PCM format).
Output format yang di support meliputi :

- Image Output: BMP, JPEG, and GIF.
- Video Output: standard AVI video dan GIF Animation.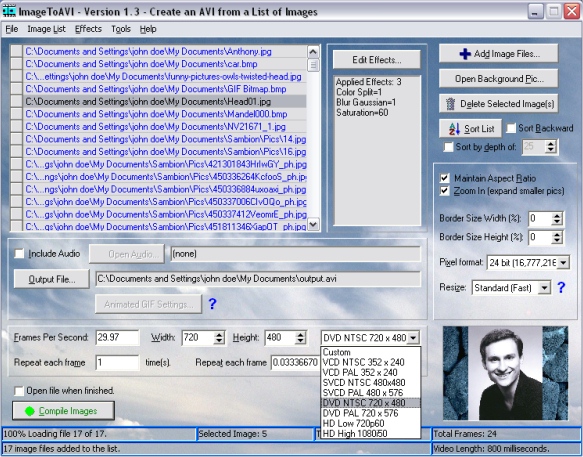 Informasi :

Nama :

ImageToAVI
1.0

Size :

1.3 MB

Website :

http://www.aswsoftware.com/
Download :

ImageToAVI
1.0

Download :

ImageToAVI
1.0

Download :

ImageToAVI
1.0

OS :

Windows 95/98/2000/XP SP1 and SP2
Publisher
Visit Site
Here!
Remember all those family pictures that have been just sitting there on your hard drive for years? You keep thinking that someday you need to do something about them. Well? Here is your chance to show all your relatives what they used to look like!!
ImageToAVI will quickly convert a list of image/picture files into an AVI video. That video can then be loaded into your favorite DVD authoring program and burned to disc. Just imagine, your entire family photo collection converted to everlasting 1's and 0's.


With this neat little program you may choose to create video for DVD, SVCD and VCD (both NTSC and PAL supported). An audio file can be added for background music and your own background picture can be added as well. You may even customize the length of time to display each image. Want to create your own mini video clip instead of a slideshow? Not a problem. ImageToAvi is there to bring out the artist in you!
File formats supported: input: BMP, JPEG, and GIF ==> output: standard AVI


Artikel Terkait: