Warna tidak bisa dipisahkan dalam kehidupan keseharian kita, begitu juga bagi teman-teman yang senang menghias tampilan Blog atau Website, tentunya acapkali berkecimpung dalam dunia warna ini, dimana warna warna ini dalam dunia Website disimbolkan dalam format HEX ataupun RGB.
Sama halnya dengan para Web Master ataupun Web Designer, mereka ini semuanya pasti menggunakan segala macam warna dalam pekerjaan mereka dan semua warna ini tentunya dalam format HEX atau RGB sesuaikan dengan bahasa pemprograman apa yang digunakan.
Nah untuk membantu memudahkan pekerjaan anda dalam menentukan kode HEX dan RGB dari berbagai macam warna, silahkan gunakan aplikasi khusus yang bernama

BrazuColor

.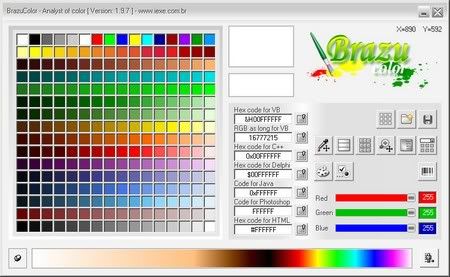 BrazuColor adalah aplikasi multi purpose color picker yang diperuntukkan khususnya bagi para Web Master ataupun Web Designer, untuk memudahkan pekerjaan mereka dalam menemukan kode warna dengan menggunakan mouse di layar desktop computer. Selain itu anda juga dimungkinkan untuk memilih secara langsung warna yang diinginkan melalui color palette dan meng-copy-nya ke dalam format HEX ataupun format RGB. Dan kode-kode warna ini nantinya dapat digunakan untuk bahasa

HTML, Delpi, Visual Basic, Java, Photoshop dan C++

.
OS :
Windows XP/ VISTA/ 7
BrazuColor is a perfect tool for web developers or graphic artist working with colors
BrazuColor is a color picker, easy to use and effective utility to design color schemes.
Enables you to select color samples from your desktop or standard color palettes and copy them in Hex or RGB format for HTML, Delphi, Visual Basic, Java, Photoshop and C++.
You can create custom palettes in a
*.PAL compatible format.
The program also includes a screen magnifier, capture color and a nice gradient creator.
Very nice program with many unique features.
• Create and Save your Palettes
• Color capture from Screen
• Color capture from Image Magnification
• More a 1000 Color names
Artikel Terkait: