Anda kurang puas dengan fitur file manager yang dimiliki oleh Windows yakni Windows Explorer, jika demikian anda perlu mencoba aplikasi file manager yang satu ini FreeComander 2009
Tidak seperti Windows Explorer, FreeComander 2009 akan memberikan anda tampilan panel dua layar, yang menjadikan anda dapat dengan mudah untuk mengelola data-data yang terdapat dalam computer anda yang meliputi file-file di dalam Harddisk, optical drive, flash disk, memory card dan lainnya. Dan asyiknya tampilan dua layar ini bisa anda posisikan secara vertikal ataupun horisontal, sehingga dapat dimanfaatkan untuk membandingkan isi dan perbedaan antara dua buah file atau folder di dua media penyimpanan yang berbeda, atau juga dapat digunakan via jaringan internet melalui FTP.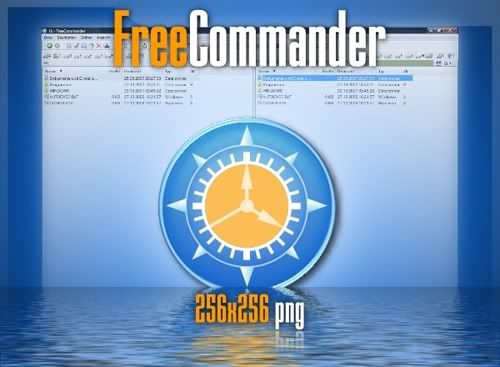 Anda juga dapat melakukan Backup data menggunakan aplikasi FreeComander dengan sangat mudah, tanpa perlu repot memilih data satu persatu dari banyaknya data yang anda miliki, anda dapat memanfaatkan fitur [Compare dan Synchronize],kedua fitur ini akan dapat memberitahu anda file/folder mana saja yang perlu di backup karena tentunya file-file anda ada yang mengalami perubahan jenis dan ukurannya.
Fitur lainnya yang perlu anda coba adalah [Desktop Snapshot] yang berfungsi untuk menangkap gambar [capture] dari desktop anda dengan cara menekan tombol shortcut di keyboard dan kemudian memblok bagian yang ingin anda capture dan hasilnya dapat anda simpan dalam format gambar [JPEG,GIF]


Visit Site
Here!
FreeCommander is an easy-to-use alternative to the standard windows file manager. The program helps you with daily work in Windows. Here you can find all the necessary functions to manage your data stock. You can take FreeCommander anywhere - just copy the installation directory on a CD or USB-Stick - and you can even work with this program on a foreign computer.
Informasi :

Nama :

FreeComander 2009
Size :

2.4 MB

Website :

http://www.freecommander.com/

Download :

http://www.freecommander.com/fc_downl_en.htm

System : Windows 2000/ XP/ VISTA/ 7


Artikel Terkait: