B

anyak cara dilakukan para orang tua untuk menjadikan anaknya pintar dalam hal hitung menghitung matematika,seperti membeli buku matematika untuk anak,sampai dengan les privat toh tetap saja sebagian anak-anak ogah dengan pelajaran satu ini terutama untuk anak-anak

umur 4 tahun

ke atas yang biasanya lebih suka bermain daripada belajar.Jika terlalu dipaksakan tentunya juga akan berdampak buruk dengan perkembangan anak itu sendiri,malahan mereka akan tambah tidak menyukai pelajaran ini.


Ada satu cara yang mungkin bisa anda gunakan untuk lebih menarik perhatian anak anda terhadap pelajaran matematika. Yakni bermain Games sambil belajar berhitung. Gunakan saja aplikasi Tux of Math Command, dengan aplikasi ini dijamin anak anda akan betah berlama-lama belajar berhitung.
Tux, of Math Command adalah sejenis aplikasi game yang dikhususkan untuk anak-anak untuk bermain sambil belajar berhitung,dengan tampilan kartun pinguin yang menarik disertai dengan angka-angka penjumlahan dan pengurangan yang harus ditebak dengan mengetikkan hasilnya di keybord computer.


Sebelum anak anda terbiasa dengan game ini disediakan tab

Math Command Training Academy

untuk berlatih menggunakan aplikasi ini. Juga disediakan beberapa pilihan mode game diantaranya :

Play Arcade Game Dan Play Custom Game

. Ada 2 pilihan mode untuk meminkan game ini yakni mode Full Screen dan Mode Windowed.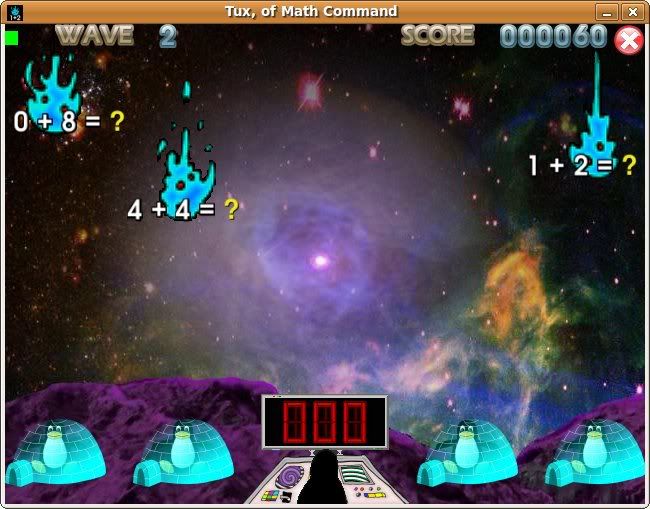 Publisher
Visit Site
Here!
"Tux, of Math Command" is a mathematical drill game starring Tux, the Linux Penguin. Lessons are included from simple number typing through addition, subtraction, multiplication, and division of positive and negative numbers. It is intended for kids 4+.
Informasi :

Nama :

Tux, of Math Command 1.7.2

Size :

8.43 MB

Website :

http://tux4kids.alioth.debian.org/

Download :

http://tux4kids.alioth.debian.org/tuxmath/download.php

Download :

Tux, of Math Command 1.6.1 [ Old Version ]

OS : Windows(tested on 2000, XP, Vista)


Artikel Terkait: