Jika anda senang berkreasi membuat gambar icon computer anda sendiri, tidak ada salahnya anda mencoba aplikasi yang bernama Pixelformer.
Pixelformer adalah aplikasi yang diberikan julukan oleh publisher-nya sebagai

Powerfull Icon And Bitmap Editor

. Ya sesuai dengan kata-kata tersebut Pixelformer memang bisa anda andalkan sebagai media berkreasi anda dalam membuat dan memodifikasi :
-Icon,

-Button,

-Avatar,

-Web graphic,

-Game graphic,
-Dan lain sebagainya.
Pixelformer juga mempunyai ukuran file installer yang sangat kecil (880 KB ), sangat ringan dijalankan pada computer, mudah digunakan dan sangat presisi dalam menghasilkan icon dan bitmap.
Fitur image editor lainnya yang dimiliki oleh aplikasi ini antara lain : create, edit, crop, resize, dan convert image.


Jika kita lihat di pasaran memang banyak aplikasi sejenis yang mempunyai kemampuan membuat icon computer, namun aplikasi Pixelformer dapat menghasilkan icon dengan kualitas tinggi juga sumber gambar yang hendak anda jadikan icon tidak terbatas ukurannya, anda dapat menggunakan file gambar berukuran multi megafixel sekalipun. Dan yang paling penting adalah aplikasi ini bersifat freeware, berarti anda dapat menggunakannya secara gratis selamanya.
Bagi anda yang i
ngin mengetahui secara detail aplikasi Pixelformer ( Dalam Bahasa Inggris ), dapat membaca Data Detail-nya

Disini!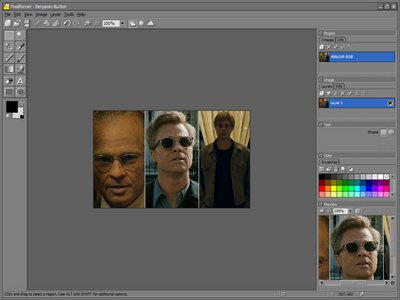 Pu
blishe
r
Visit Site
H
ere!
Pixelformer
is a bitmap editor, specifically optimized for creating, modifying, and converting small and medium-sized images, such as icons, buttons, avatars, web graphics, game graphics, etc.
Pixelformer is faster, smaller, easier, more precise, and often more efficient than large bitma
p editing tools; at the same time it is more powerful than any classic simple icon editor.


Pixelformer can be a complete solution for those who need to create, edit, crop, resize, or convert icons or other small images. Even if you prefer to create graphics in some sophisticated high-end image editor, Pixelformer would be a useful tool for doing final tweaks, conversions, and optimizations.
The main features of Pixelformer are:

• no restrictive limits for image dimensions

• support for different color depths up to 32-bit RGB with alpha channel

• semi-transparent colors

• multiple layer support

• free-form masking

• in-place supersampling

• lossless target color depth switching

• independent access to color and alpha channels

• support for multiresolution icons

• dynamic palette generation

• multiple file format support

• icon extraction capability

• PNG size optimization

• Vista icon optimization

• alpha premultiplication

• deep undo buffer
Informasi :

Nama :

Pixelformer 0.9.6.3

Size :

880 KB

Website :

http://www.qualibyte.com/

Download :

Pixelformer 0.9.6.3

Download :

Pixelformer 0.9.6.3

Download :

Pixelformer 0.9.6.3

System OS :

Windows 2000, Windows XP, Windows 2003, Windows Vista, Windows 7.

Hardware:
• 500MHz CPU (1GHz recommended);
• 256MB RAM (512MB recommended);
• 1024x768x15bpp display (1024x768x32bpp recommended).


Artikel Terkait: