Selain Firefox

yang memiliki add-on

Seo Status Toolbar For Firefox

, Browser Besutan Google yakniGoogle Chrome, juga memiliki add-on yang bernama

SEO Status Pagerank/Alexa Toolbar

(

SEO Status Chrome Extension

) yang fungsinya hampir sama, yakni untuk menampilkan secara realtime

Google pagerank

(

PR

) dan

Alexa rank

dari setiap situs web yang anda kunjungi menggunakan BrowserGoogle Chrome.


Pagerank dan Alexa Rank yang ditampilkan oleh

SEO Status Pagerank/Alexa Toolbar

adalah dijamin keasliannya karena berasal langsung dari situs aslinya yakni Google.com dan Alexa.com, bukan hasil relay dari website pihak ketiga (

third-party website

).


Add-on

SEO Status Pagerank/Alexa Toolbar

setelah terinstall di browser

Chrome

, akan duduk manis di bilah toolbar browser Chrome, dan menampilkan sebuah

Button

di pojok kanan atas yang ketika di klik akan menampilkan beberapa informasi yaitu :


* Alexa traffic graph

* Alexa rank number

* Google PR and PR bar
* Backlinks link

* Whois link

* Domain availabiliy for other TLDs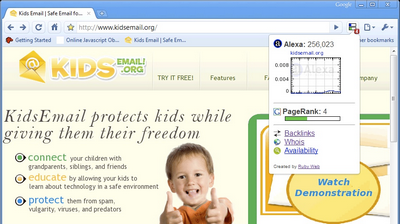 Cara instalasi dari addon ini juga cukup mudah yakni :
1). Berkunjunglah dulu ke Situs web-nya menggunakan Browser

Google Chrome

anda

Disini!




2). Setelah jendela situsnya terbuka klik pada tombol

( Pasang atau Install

), ikuti semua langkah selanjutnya, setelah selesai

( Restat

) Browser Chrome anda.





3). Selesai...
Informasi :

Name :

SEO Status Pagerank/Alexa Toolbar

Website :

http://www.rubyweb.org/seo-status-toolbar/google-chrome-seo-status/

Download :

SEO Status Pagerank/Alexa Toolbar

Browser :

Google Chrome
Publisher


Visit Site
Here!
SEO Status will check the Google Pagerank (PR) and Alexa rank for every visited page.
Using this will increase your Alexa.
The SEO Status PageRank / Alexa Toolbar is:

* Simple

* Light-weight

* Very fast
* Will improve Alexa rank for visited sites
It shows the PR and Alexa rank for every website visited right on the button itself.

The PageRank and Alexa rank do not rely on a third-party website to gather its data, but retrieves it from Google and Alexa directly. When the button is clicked, it shows more data such as an Alexa traffic graph, ranking number, and useful tools for the avid webmaster.
Using this toolbar WILL improve the Alexa ranking of the websites that you visit, just like the IE Alexa tooblar does.
Unlike other popular extensions that bog down the Chrome browser, the SEO Status Toolbar is the fastest and most light-weight Page Rank extension that I've seen. It was written to be lightening fast and very simple. It WILL NOT slow down the loading of a website as it calculates the data on a seperate thread from the main browser.

When you click the extension icon it will show the additional information:

* Alexa rank number
* Google PR and PR bar

* Backlinks link

* Whois link

* Domain availabiliy for other TLDs


Artikel Terkait: