Penggunaan CD/DVD dan Optical drive secara terus-menerus pasti ada batasnya, dimana suatu saat pasti mengalami kerusakan, terutama bagi user yang kerapkali menggunakan CD/DVD dan Drive optikal untuk menonton film ataupun bermain game yang memerlukan pembacaan CD/DVD berulang kali. Hali ini lambat laun dapat menimbulkan kerusakan pada Optical drive ataupun keping CD/DVD anda.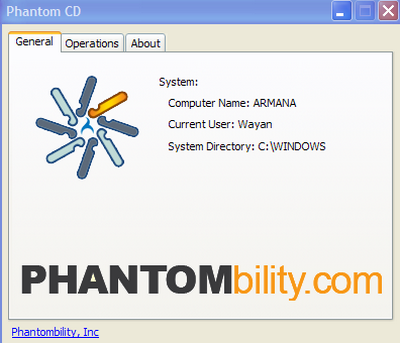 Untuk mengatasi hal di atas dan untuk memperpanjang umur CD/DVD-ROM, gunakan saja aplikasi Virtualisasi CD/DVD seperti aplikasi yang bernama

Phantom

.
Aplikasi jenis ini akan bekerja membentuk sebuah drive virtual CD/DVD di computer anda, dimana drive virtual ini dapat diakses layaknya drive secara fisik, drive ini akan mewakili drive secara fisik untuk mengakses data CD/DVD image.
Sebelum dapat menggunakan drive virtual ini, anda terlebih dahulu harus mempersiapkan atau membuat file image tertentu dari CD/DVD game yang anda punya, semisal file ISO dan lain sebagainya. Untuk mengakses data atau file ISO yang telah dibuat adalah dengan cara mounting data.
Dengan software Phantom anda dapat melakukan mounting data ini menjadi virtual drive yang nantinya akan dibaca oleh windows sebagai drive optical baru di dalam My Computer.
Aplikasi Phantom memiliki kecepatan baca 200 kali lebih cepat daripada pembacaan disc melalui Drive optical CD/DVD, sehingga menjadikan semua aplikasi termasuk game yang anda jalankan secara virtual mounting akan berjalan lebih cepat.
Untuk membuat atau memburning keping CD/DVD yang anda punya menjadi file image ISO atau format lainnya anda dapat menggunakan aplikasi burning gratisan semisal : ImageBurn, Explore&Burn,
Alo CD & DVD Burner
,
Burn Aware
,
CDBurnerXP
,
Final Burner
, dan lain sebagainya.



Informasi :


Name :

Phantom CD/DVD 1.5.2


Size :

3.67 MB


Website :

http://phantombility.com/


Download :

Phantom CD/DVD 1.5.2


OS :

Windows XP/ VISTA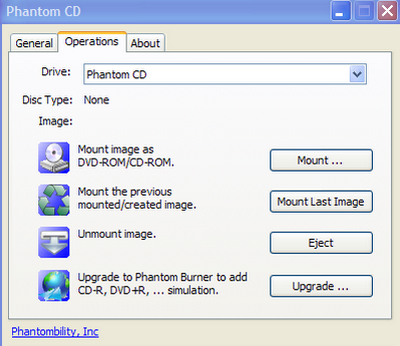 Publisher
Visit Site
Here!
Phantom CD is a virtual CD/DVD/Blu-ray emulator. Mount your CD/DVD/Blu-ray image files as virtual CD/DVD/Blu-ray disc with Phantom CD.
Use disc images for your CD, DVD and Blu-ray backup. Replace your physical discs to avoid wear and tear on your optical drive, and to avoid disc problems resulted from heat, scratch, and dirt. Enjoy reading speed up to 200 times faster than a physical disc, allowing your application and games to start and run faster.


Artikel Terkait: