Pernahkah kamu mendengar format gambar Raw? Format gambar Raw adalah salah satu format image mentah yang biasanya dihasilkan dari jepretan beberapa merk kamera digital Advance dan kamera DSLR, dimana gambar Raw ini berukuran cukup besar karena menyimpan detail photo maksimal yang dihasilkan dari jepretan kamera tersebut dan file Raw ini juga masih bersifat file gambar mentah alias belum mengalami proses editing dan kompressi. Nah untuk itu file Raw ini perlu dilakukan proses editing lebih lanjut yang meliputi penyesuaian kontras, ketajaman warna, dan lain sebagainya, yang pada akhirnya file Raw ini dikonversi ke dalam format gambar lainnya semisal file JPEG, BMP, GIF, PNG atau yang lainnya. Banyak sekali aplikasi photo editing dan konversi yang beredar di internet yang mempunyai kemampuan untuk mengedit dan mengkonversi file gambar Raw, dari yang berbayar hingga yang gratisan juga ada.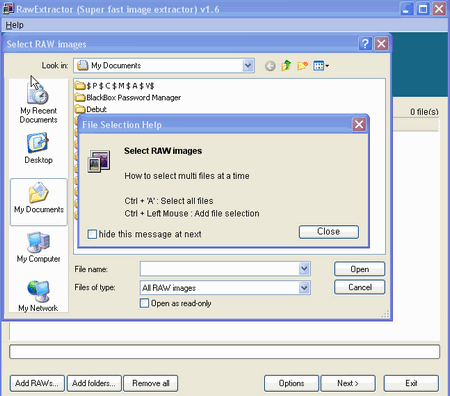 Namun bagi kamu yang hanya ingin mengkonversi format gambar raw ke format gambar lainnya tanpa perlu melakukan proses editing lebih lanjut, gunakan saja aplikasi khusus yang bernama RawExtractor. Aplikasi RawExtractor mempunyai ukuran yang sangat kecil dan sangat mudah serta ringan digunakan, apalagi aplikasi ini bersifat gratis sehingga tidak membuat kantong kamu bolong. Banyak sekali jenis dan merk kamera digital dan SLR yang sudah didukung oleh aplikasi ini diantaranya :

Canon, Nikon, Pentax, Samsung, Olympus, Fuji, Minolta, Sony, Kodak dan Panasonic

.



Adapun jenis-jenis file gambar Raw yang didukung adalah :


1). Canon RAW (*.CRW,*.CR2)
2). Nikon RAW (*.NEF)
3). Pentax RAW (*.PEF)
4). Samsung RAW (*.DNG)
5). Olympus RAW (*.KDC)
6). Olympus RAW (*.ORF)
7). FujiFilm RAW (*.RAF)
8). Minolta RAW (*.MRW)
9). Sony RAW (*.ARW)
10). Kodak RAW (*.DCR)
11). Panasonic RAW (*.RAW)



Informasi :


Nama :

RawExtractor v1.6


Licence :

Freeware


Size :

523 KB


Website :

http://www.safefolder.net


Download : RawExtractor v1.6
Download : RawExtractor v1.6
Download :

RawExtractor v1.6


OS :

Windows 2000, XP, 2003, Vista, Win7





Publisher Visit Site Here!
When you photograph an important moment you do not want to miss, you need digital camera's raw file because of its outstanding quality and compensation function.However, it is very inconvenient to see the photos taken in raw mode by a PC,because it takes so long to transform photos. But if you use this RawExtractor, which transforms all raw photos to jpg only for a second, you can see them at once.

Also, in transforming photos to jpg, it gives the photographing data of a camera (Shooting date, rotation data, exposure, shutter speed, ISO speed, etc...) as they are and you can save user memo in addition. You can put postfix on the name of a file that is transformed from the raw, and also can separately assign the saving folder location. RawExtractor supports almost all cameras including Canon, Nikon, Pentax, Samsung, Olympus, Fujifilm, Minolta, Sony, Kodak and Panasonic.
Artikel Terkait: